FIK Asian Zone Kendo Referee Seminar 2005
Seminars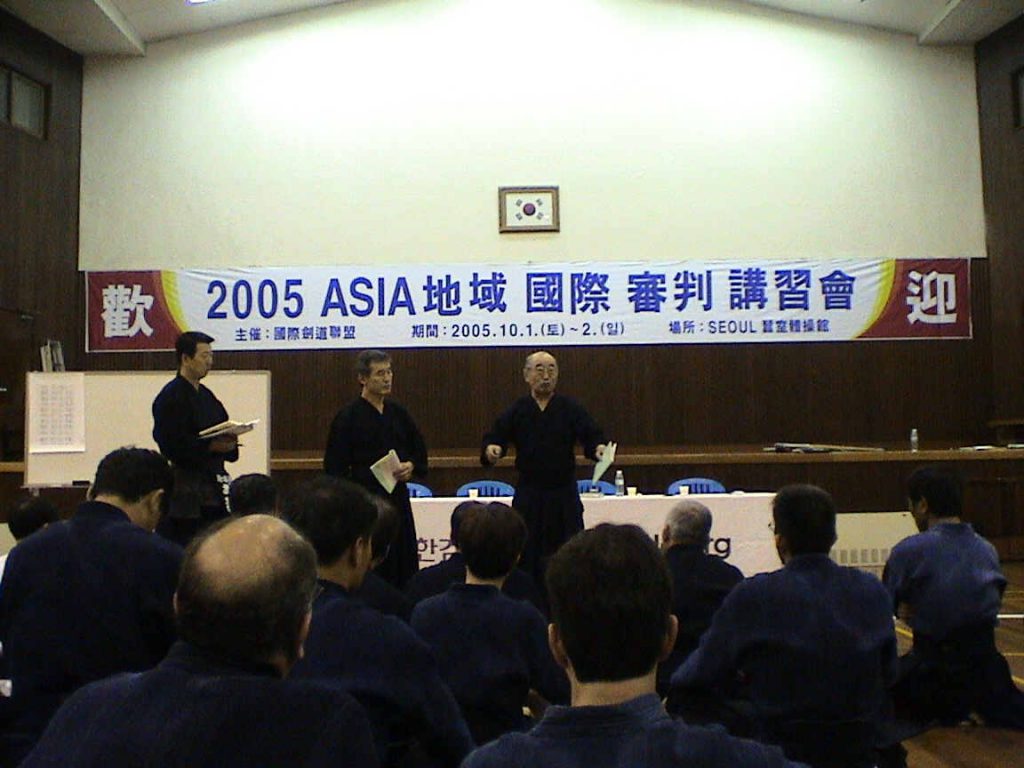 FIK Asian-Zone Kendo Referee Seminar was held on October 1 and 2, 2005 in Seoul, Korea.
The instructors were
Mr. Shigeaki Inoue, Hanshi 8 Dan,
Mr. Koji Kato, Hanshi 8 Dan.
In Chamshil Gymnastic Gym which is located in the Complex of the Chamshil Olympic Main Stadium, got together referee trainees of 31 from Australia, Korea, Hong Kong, Japan, Taiwan, and the Philippines. They included 8 Dan holders of 6 from Korea and 3 from Japan. In addition, 14 Kendo practitioners consisting of 7 college students and 7 Seoul city employees, some of whom are national team members, joined as match players and contributed to a success of the event.
After the opening ceremony on the morning of the first day, the Chief Instructor, Mr. Inoue gave an hour lecture about the mission, duties, and attitudes of referees, stressing that contemporary Kendo cannot exist without competition and a good referee makes decent Kendo.
All the trainees were divided into groups of 3 referees with the same nationality, and received hands-on training through high-level competitions of Korean match players. After 4 PM, all the participants enjoyed Keiko with all the 8 Dan Kendoists as Motodachi.
On the morning session of the second day, referee groups were reorganized with mixed nationalities and continued the refereeing practice. Their refereeing skills improved considerably through the instructions by both Hanshis except for jundgement of Genmyona-waza or a subtle and sharp Ippon.
The points which should be noted are as follows,
1) The referees should work as a team by paying attention to other members.
2) Realizing that referees should commit no error in the competitions, they need to practice regularly.