FIK European Zone Kendo Referee Seminar 2006
Seminars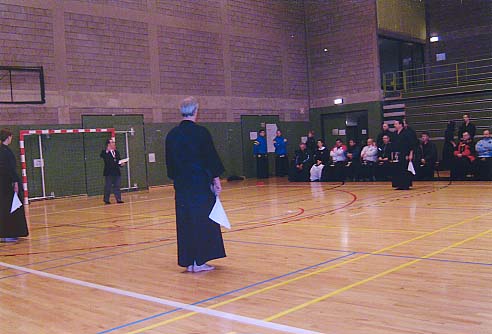 FIK European-zone Kendo Referee Seminar was held on February 11 and 12, 2006 in Brussels, Kingdom of Belgium, as in the former years. Before the formal seminar, Ji-Geiko for two hours was carried out on the previous two evenings. The instructors of this year were as follows.
Mr. Shuji Fukumoto, Hanshi 8 Dan,
Mr. Tomoyasu Ota, Hanshi 8 Dan,
Mr. Kazuo Negishi, Hanshi 8 Dan.
At first, Chief Instructor, Fukumoto Hanshi spoke to the 70 participants that this seminar aimed at nurturing referees who can judge such international matches as World Kendo Championships or European Kendo Championships. You are required to make sincere efforts in improving your refereeing skills to judge Yuko-Datotsu correctly and to deal swiftly and properly with prohibition items. As model refereeing, three 7 Dan holders were selected to execute refereeing three matches, and the attendees were divided into two groups, international level referees A and national match referees B. The A group of 42 trainees was taken care of by Mr. Ota, and the group B of 28 by Mr. Negishi.
The A group trainees experienced in the past this kind of referee seminars and the majority proved to be qualified for international matches. Their challenges are to judge correctly not only chances but also spirits, attitude, and Hasuji of match players, and to make practices to keep appropriate cooperation and positioning among the referees.
On the afternoon of the second day, Sunday, February 12, the grading examination was held with the applicants of 103. The results were rather severe as shown in the following figure of success/ figure of applicants. Shodan 9/13, 2 Dan 9/11, 3 Dan 2/6, 4 Dan 2/6, 5 Dan 3/13, 6 Dan 4/36, 7 Dan 1/11.
The unsuccessful applicants showed superb posture and attitude, but needed to improve finding more chances to strike and also smooth strikes with Ki-Ken-Tai Itchi. There seemed many failed with just one step away.