FIK American Zone Kendo Referee Seminar 2005
Seminars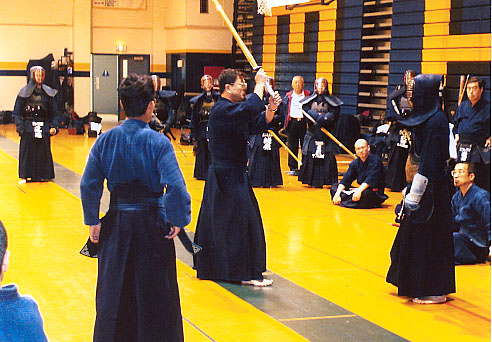 FIK Kendo Referee Seminar in the American Zone was held on March 12 and 13, 2005 in San Jose, California  The instructors of this year were
Mr. Tadashi Kumamoto, Hanshi 8 Dan,
Mr. Tadahiro Ajiro, Kyoshi 8 Dan,
Mr. Shoji Miyahara, Kyoshi 8 Dan.
More than 70 participants from U.S.A., Canada, Hawaii, Brazil, and Argentina got together in Miltapis High School Gym. They consisted of 2 Eighth Dan holders, 28 Seventh Dan, 26 Sixth Dan, 12 Fifth Dan, 4 Fourth Dan, and 1 Three Dan.
After a lecture by Chief Instructor, Kumamoto Hanshi about the mission, duties, and basic manners of referees, Yuko-datotsu, and prohibitions, the attendees were divided into two groups for hands-on training by Dan, 6 Dan or above by Mr.Ajiro and the lowers by Mr.Miyahara.
Salient points stressed by the instructors are
1) Be confident in declaring judgment and be quick in action and movement,
2) Keep Enzan-No-Metsuke even in refereeing, and
3) Practice Do-Waza and Hiki-Waza by yourself; otherwise it is difficult to judge them.
In the end of each training day, both the instructors and the trainees enjoyed Keiko for 40 minutes, respectively.