FIK American Zone Kendo Referee Seminar 2006
Seminars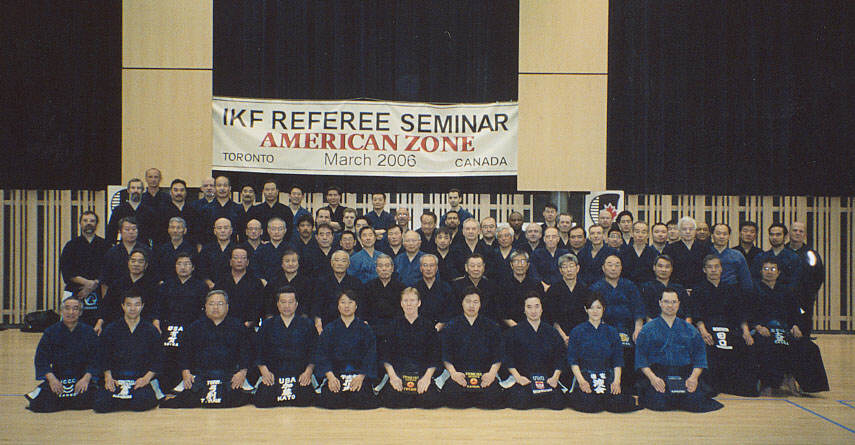 FIK Kendo Referee Seminar in the American Zone was held on March 25 and 26, 2006 in Toronto, Canada. The instructors were
Mr. Eiji Taguchi, Hanshi 8 Dan,
Mr. Kunio Hayashi, Hanshi 8 Dan,
Mr. Katsuo Endo, Hanshi 8 Dan.
From Aruba, Hawaii, the US, and Canada, 78 referee trainees assembled in Japanese Canadian Cultural Center They consisted of 3 Eighth Dan, 22 Seventh Dan, 16 Sixth Dan, 18 Fifth Dan, and 19 Fourth Dan.
After lectures on the objectives and duties of referees, summary of Shiai and Shimpan regulations, positioning, manners, displays, etc. on the morning session of the first day, the attendees were divided into three groups by Dan in the practice session of the afternoon.
On the second day, the session was focused on reviewing 13 WKC referee candidates, by having 7 trios of 8 Dan and 7 Dan holders referee mock matches by 6 Dan holders with observation of all the rest.
In his concluding remarks, Mr.Taguchi said that the refereeing is nearly perfect, but displaying of the judgment is rather slow, and some Yuko-datotsu are overlooked. He stressed the importance of reviewing factors and elements of Yuko-datotsu, and showed his hope that authentic Kendo in the region is build up by good referees.