The 32nd Foreign Kendo Leaders' Summer Seminar 2007
Seminars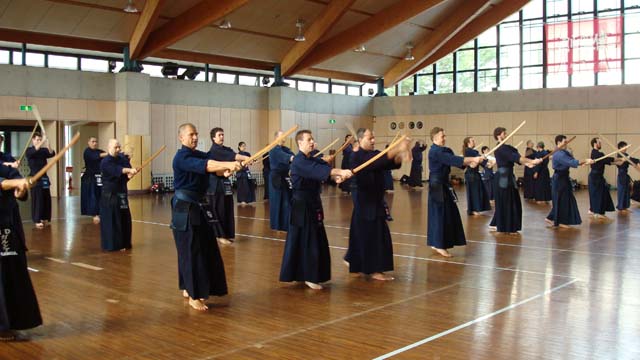 The 32nd Foreign Kendo leaders' summer seminar was held in Kitamoto City in Saitama prefecture during one week from 27th (Fri) July to 3rd (Fri) August 2007.
The 55 Kendo leaders who came from 34 countries all over the world, mainly from FIK affiliates organization.
In principle, the expected participants are Kendo 3-Dan or higher Dan holders and the current Kendo leaders or the leaders in the future of that country.
All participants had a chance to learn from the 5 high level instructors. The contents of the seminar are the basic/advanced skills of Kendo, Coaching, how to referee and so on.  Besides the instructors, there were more than 10 Motodachi Sensei in total for the Keiko time.
Some of them stayed for a few days during the seminar and had a chance to do Keiko with the participants as Motodachi and then the next group came to join as Motodachi.  So the participants had good opportunities to do Keiko with various Japanese high level Senseis.
**This work was subsidized by Japan Motorcycle Racing Organization through its promotion funds from AUTORACE.