FIK Asian Zone Kendo Referee Seminar 2007
Seminars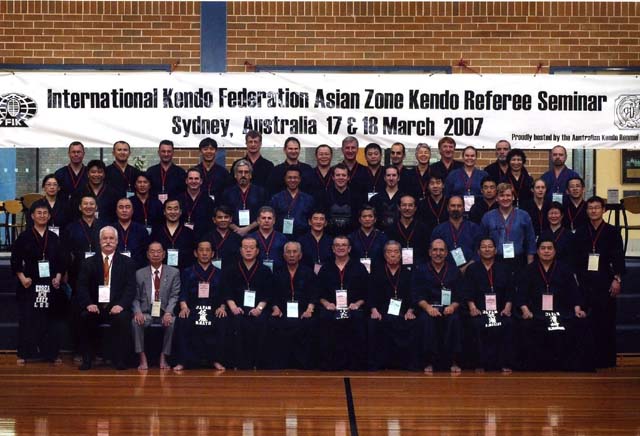 FIK Asia-zone Kendo Referee Seminar was held on March 17 and 18, 2007 at University of Sydney Sports & Aquatic Centre in Sydney Australia. The instructors from FIK Japan were as follows.
Mr. Eiji Taguchi, Hanshi 8 Dan
Mr. Hitoshi Murakami, Hanshi 8 Dan
Mr. Yuji Nakata, Hanshi 8 Dan
Number of trainee was 44 from 7 countries but total attendee was more than 70 including the exhibition match players and local Kendo fun.
Following to the opening message by Mr. Richard Ward, President of Australian Kendo Renmei Incorporated, Mr. Taguchi FIK instructor, made a speech representing instructors. The main point of this seminar was to clarify and ascertain Yukodatotsu.
The grading examination was held with the applicants of 7 for the grade of 5Dan and 6Dan. The results were as shown in the following figures of success/number of applicants. 5Dan 2/2 and 6Dan 4/7, average passage was 66.7%.
Worthy of special mention is that through 2 days seminar, judging skill has been greatly improved and confirmed that some trainees are capable for the World Kendo Championship referee.