FIK Asian Zone Kendo Referee Seminar 2014
Seminars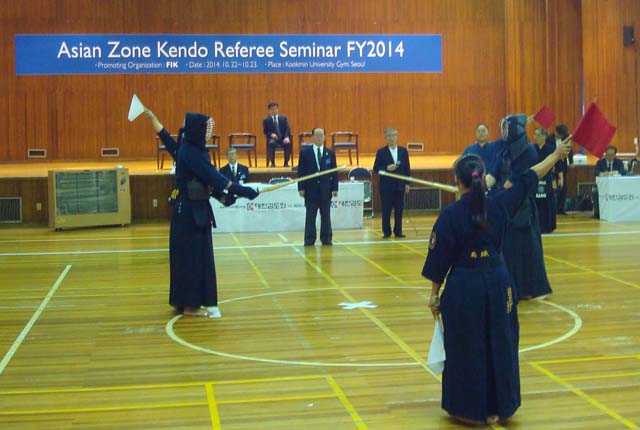 FIK Asia-Zone Kendo Referee Seminar was held on Oct 25 and 26, 2014 at Kookmin University Gymnasium in Seoul in Korea.
The Instructors from FIK were as follows.
Mr. Masami MATSUNAGA  Kendo Hanshi 8 dan FIK vice president
Mr. Masaharu KAKEHASHI   Kendo Hanshi 8 Dan
Mr. Yuji NAKATA  Kendo Hanshi 8 Dan
Number of trainee was 51 from 7 countries of Japan, Korea, Hong Kong, China, Chinese Taipei, Australia and Thailand, total attendance were more than 80 including the seminar match players and local Kendo staffs.
Particularly, excellent players in Korea demonstrated good matches at the seminar.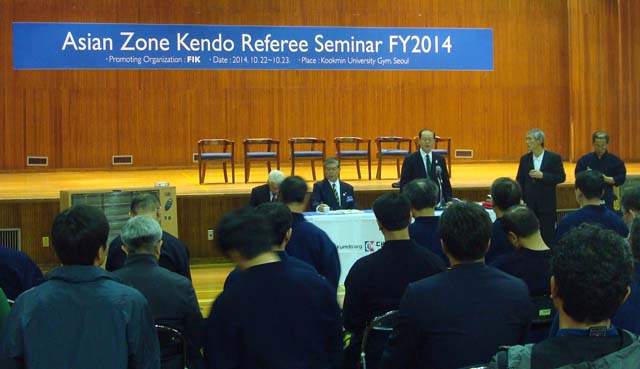 Following to the opening message by Mr. Shin Managing director of KKA, Chief Instructor MATSUNAGA sensei and KAKEHASHI sensei made speech, what is the important point for the Kendo refereeing.
And the refereeing training session was started by NAKATA sensei.
The seminar was conducted by 1 court.
The main point of this seminar was to clarify the Yukodatotsu and to make sure the detail of refereeing.
After 2 days seminar, judging skill of Yukodatotsu has been improved and confirmed.
All of referee trainees were learned refereeing and enjoyed the seminar.