EKF Iaido and Jodo Championships were held in Bologna.
Tournaments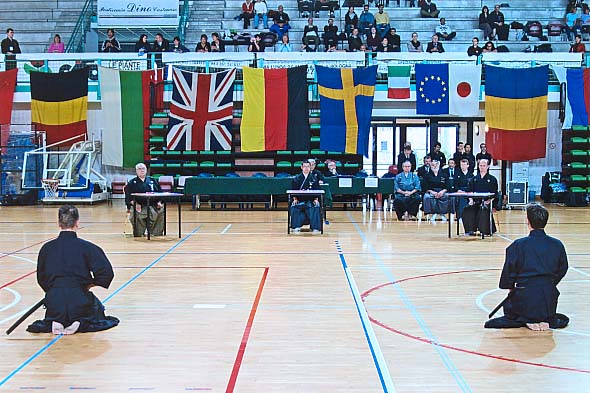 2005 European Iaido Championshiop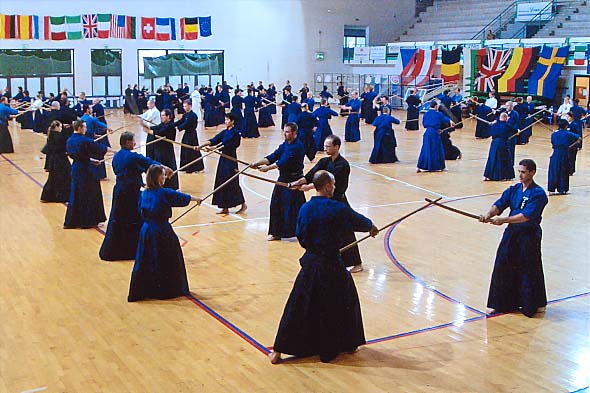 2005 European Jodo Championshiop
They were held in Bologna, Italy between October 30 and November 4,2005
AJKF/IKF sent the following four experts for Shimpan and seminar instructors at the request of EKF,
Mr. Satanori Ueno, Iaido Hanshi 8 Dan
Mr. Shigenori Namitome, Jodo Hanshi 8 dan and Iaido Kyoshi 8 Dan
Mr. Shizufumi Ishido, Iaido Kyoshi 8 Dan and Jodo Kyoshi 8 Dan, and
Mr. Mitsuo Shiiya, Jodo Kyoshi 8 Dan and Iaido Kyoshi 7 Dan.
On the 1st day, the opening ceremony started with parade of national flags by 230 participants from 18 EKF affiliates. After an opening address by EKF president, Mr. Alain Ducarme, Mr. Marco Macciantelli, the host city mayor, made a welcome speech.   Then, Iaido seminar was held by focusing on AJKF Iai on the morning and refereeing on the afternoon.  On the 2nd day, Iaido individual contest and 3rd day Iaido team competition and grading were conducted. The contest results were shown in the EKF website. The result of grading was shown in the figure of success/figure of applicants as follows,
Shodan 40/43, 2 Dan 14/17, 3 Dan 20/25, 4 Dan 12/17, 5 Dan 1/4, 6 Dan 3/9.
(Out of the total applicants of 115, 90 practitioners successfully passed.)
The Japanese instructors were impressed with fast and steady growth of skills by European practitioners, as well as their sincere attitudes.
Following Jodo practice and referee seminars on the fourth day, Jodo individual competition was held on the 5th day and team competition and grading on the 6th and last day. The result can been seen in the EKF web-site.
The result of Jodo grading was as follows,
Shodan 15/16, 2 Dan 12/12, 3 Dan 10/10, 4 Dan 4/7, 5 Dan 2/5, 6 Dan 0/10.
(Out of the total applicants of 60, 43 people successfully passed.)