FIK Asian Zone Kendo Referee Seminar 2004
Seminars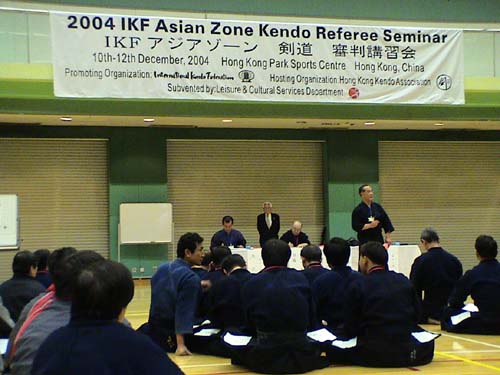 FIK Asian-Zone Kendo Referee Seminar was held on December 11 and 12, 2004 in Hong Kong Park Indoor Games Hall Complex. The instructors were
Mr. Nariaki Sato -Hanshi 8 Dan,
Mr. Koji Kato -Hanshi 8 Dan,
Mr. Masatake Sumi -Hanshi 8 Dan.
Referee trainees of 42 from Australia, Korea, Japan, Taiwan and Hong Kong In addition, some 40 Kendo practitioners including 11 Hong Kong national team nominee hopefuls joined as match players and contributed to a success of the event. Noteworthy is four emergency life guards were kept in the courts for the two whole days.
After the opening ceremony on the morning of the first day, the Chief Instructor, Mr. Sato gave a lecture about mission, duties, and attitudes of referees, and how to show their judgment. His remarks were translated into English, Korean, and Chinese languages. Then, a model refereeing was demonstrated by Messrs. Sueno, Tamura and Furukawa, all 8 Dan from Japan.
The trainees were divided into two groups by Dan, experiences and age. The top group focused on judging a valid point by mental charge and physical posture of the competitors, and the Hasuji of the Shinai. After 4, all the participants enjoyed Keiko.
On the second day, IKF Chairman Mr.Takeyasu who arrived at Hong Kong at the previous night made an encouraging address to the hall, saying that improvement of refereeing Kendo is an acute challenge to the world Kendo since it is spreading into the world so fast. "You are requested to practice Kendo regularly and promote friendship exchange among the participants."
On the morning session, the same two groups continued the refereeing practice.
The points which should be noted are
1) Few attendees were likely to nail down both Hasuji and physical attitude when the competitors hit a strike, though they spotted the strike.
2) Few could anticipate the movements of the competitors, and resultantly they ran after the fighters without paying attention to the journey of the other referees.